Portable ECM Unit
The handheld digital ECM unit operates from an internal battery and records conductivity data digitally in non-volatile memory. After scanning one or more ice cores, the data are transferred to an IBM-PC computer using the software provided. Data transfer is through a standard straight-through serial cable (i.e., not a null-modem cable). A USB-serial converter is supplied for use with computers lacking a serial port.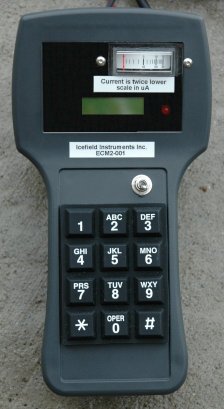 Specifications
NEW! Version 2 device with an ergonomic case
Microchip PIC18F6722 8-bit processor with keypad and alphanumeric LED display
Dimensions: 60 x 80 x 180 mm
Weight: approximately 600g
Automatic power-down after two minutes of inactivity
Real-time clock preserved time even when off
Digitizing rate: 19Hz (~1 sample/mm for 2cm/s scan rate) using a 24-bit Sigma-Delta converter
Automatic 50 and 60Hz power line noise rejection
Non-volatile FLASH Storage for over 130,000 samples at 24 bits resolution (~100 minutes of sampling or 135m of core at 2cm/s)
NOTE: Recording time/length is halved when the encoder option is added
8 letter/digit core identifier capability
Output voltage can be set in the range 500-1100VDC (specify when ordering)
Analogue display of ECM current (0-60uA)
20mm electrode spacing
Safety switch and audible alarm for operator safety
Power supplied by a 6V sealed lead-acid battery for good cold-weather performance
Charger voltage: 9-16 VAC/VDC input
9-pin standard serial connector
USB-serial converter with Windows driver
Windows compatible software for downloading and managing data
Options:

Wire-and-capstan encoder system for determining position along core

0.22mm resolution, 14m maximum run length
data storage reduced to 50 minutes (about 70m core) in total
2m of encoder tracking wire is standard
tracking wire is tensioned by a spring and is of a design that cannot slip on the encoder wheel
customer will have to supply anchor points for the two ends of the wire, as well as a tensioning system (e.g., spring) so that the system fits their laboratory configuration
NOTE: This option can be added to the unit at a later date

Down-hole configuration for performing ECM in-situ
NOTE: Specifications are subject to change without notice.
Software download
ECM software, suitable for Windows 95/98/NT/2000/XP/Vista is available for download HERE. Save the setup.exe file to your computer and then execute it to install the ECM software.
Upgrades
Icefield Instruments may provide periodic software upgrades for the handheld ECM unit. Web upgrades can be made automatically from within your installation of the ECM software.
Pricing
Pricing as of October 2009 is as below:
Pricing for the basic unit is $8,740
Pricing for the encoder option is $1,015
Prices are in USD, FCA Whitehorse Yukon. Price does not include shipping, insurance, or duty. The harmonized commodity code for the ECM unit is 9027.80.90.92