Ice Coring Drills
The ECLIPSE Ice Coring Drill
The ECLIPSE ice coring drill is a modified version of the Danish intermediate-depth tipping-tower drill designed at the University of Copenhagen. This drill is intended for drilling dry holes to depths of up to 350m. The design has been proven at locations in the Canadian High Arctic (Agassiz and Penny Icecaps), Greenland (Renland), Tibet (6500m elevation on Far East Rongbuk Glacier) and the Yukon Territory (Eclipse Dome, St. Elias Range).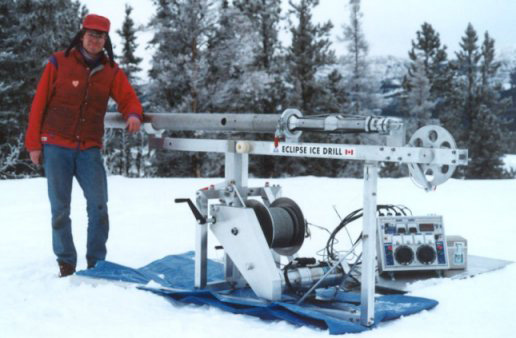 The ECLIPSE drill follows the design of the HILDA and HILDA-2 versions of the Danish tipping-tower drill. HILDA was designed and built at the Glaciology Section (Terrain Sciences Division) and the Instrument Development Workshop (Mineral Resources Division), both of the Geological Survey of Canada (GSC) (http://gsc.nrcan.gc.ca/glaciology/national/index_e.php). HILDA-2 was designed and built at the National Research Council of Canada. The two drills are identical with the exception that HILDA holds a 500m steel cable and HILDA-2 holds a 500m Kevlar® cable. Icefield Instruments Inc. holds a licensing agreement with the GSC for the complete mechanical drawings for HILDA-2.
The ECLIPSE drill consists of three components: a drill sonde, a winch, and a control box. The sonde has three major components: a motor/anti-torque section, an inner barrel, and an outer barrel.
The cutter head is fitted to the lower end of the inner barrel which in turn is fitted with external nylon flights. As the inner barrel and cutter head turn, chips are carried up the flights and dumped on top of the ice core. Riflings cut into the inside of the stationary outer barrel assist in moving the chips. Special spring-loaded core dogs are responsible for gripping, breaking, and retaining the ice core. The anti-torque section used three leaf springs to prevent the outer barrel rotating. The cable connection includes a hammer, thrust bearing, and slipring; should the anti-torque springs loose their grip, the cable does not get twisted.
Core is removed at the surface by tipping the winch tower to a horizontal position, removing three locking pins, and extracting the inner barrel from the sonde. The core and ice chips can then be removed from the top of the inner barrel.
Two versions of the ECLIPSE drill are available: one producing 82mm diameter core and one producing 101mm diameter core.
Specifications (82mm version):
Drill Sonde
Overall length: 3.6m (141")
Mass: 50kg (110lbs)
Sonde Diameter: 108mm (4.25")
Core Diameter: 82mm (3.25") -

a 101mm/4" version is available

Drill motor: 3750rpm 200VDC motor
Cutter head rotation speed: 75rpm
Cutter head design: 3 teeth with interchangeable heels to set 3, 4, or 5mm cut/revolution
Hammer and slipring assembly
Power consumption(1)

Idling at full speed (200VDC at 0.6A): 120W
Typical drilling (200VDC at 0.9A): 180W
Maximum power at full RPM (200VDC at 2.0A): 400W
(1) power ratings are measured at the drill motor; line losses in the cable add about 15W to these figures
Winch
Power supply 24VDC or 115/230VAC
Mass: 120kg (265lbs) with 250m cable and 24VDC motor
Winch rate:

0.35m/s for power consumption of 650W (standard 24VDC motor)
0.8m/s for power consumption of 1.2 kW (standard 115/230VAC motor)

Cable:

4.8mm (3/16") steel counter-wrapped armoured wireline cable (Vector/Schlumberger 4-18P)
breaking strength of 1430kg/3150lbs
termination at sonde with PMI Evergrip unit

Cable length: 250-500m
Electric brake on motor
Hand brake on winch drum
Chain drive with separately-geared hand winch
Level winder
Tower height above surface: 2.65m
Depth of drilling trench below surface: 1.6m minimum
Control System
RPM and current for drill and winch
Start, stop, and speed controls for drill and winch
Emergency stop switch on winch
LED depth encoder displays depth in metres
Input voltage and total current meters
Fused as appropriate
System Specifications
Total mass of drill system as described above (250m cable): 200kg (includes control box and spare parts kit)
Drill can be dismantled and carried by hand
Mass of heaviest component (winch drum with 250m cable): 27.5kg
Length of longest component (outer barrel): 2.4m
Rigidized aluminium transport cases
Options
Pressure proofing of sonde to 1.4MPa (200psi)
Booster pump for drilling in fluid
6.4mm (1/4") steel cable or Kevlar® cable
Custom power supply options
101mm core version
Teflon®-coated cutter heels
Titanium cutter head
Utra-clean core recovery system (designed for trace metal sampling)
Trip Time
Actual round trip travel time (includes drilling and core removal/bagging) for 24VDC/82mm drill system - winching can be faster with AC power
Pricing
Please contact us for current pricing and options. Standard pricing options include:

82mm sonde
101mm sonde
Winch (including control system, level winder, and 350-500m cable)
Winch as above without level winder

Please contact us for delivery times and detailed parts lists. Normal delivery time is six months after receipt of order.
Prices will be quoted in Canadian dollars (USD), FCA Whitehorse, Canada. Shipping, insurance, taxes, and duty are not included.
The harmonized commodity code for ice coring drills is 8430.49.00.99 and the code for accessories and components is 8431.43.00.90
Manuals and documentation
Kevlar® and Teflon® are a registered trademark of Dupont