News
A NEW FACE FOR ECM (2007)
Icefield Instruments has released a new version of the ECM (electrical conductivity measurement) instrument. The new ECM is in an ergonomic package and features a faster sampling rate and temperature-compensated charging of the on-board battery.
A DRILL FOR MARS (2004)
Icefield Instruments has delivered a prototype ice coring drill to the Exploration Systems Engineering Office at Johnson Space Center (JSC). This drill, which produces 25mm ice core, is an alternative end-effecter for the rock drill designed and built at JSC. Field testing occurred in 2004 at Eureka, Nunavut, Canada.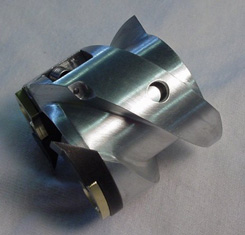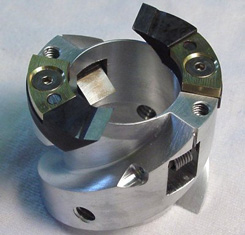 DEEPEST ICE CORE IN CANADA (2002)
This summer, there were three ice coring projects cooperating within the St. Elias Mountains. The Geological Survey of Canada was completing their summit core on the Mt. Logan plateau, NIPR was drilling at King Col, and the University of New Hampshire was drilling at Eclipse Dome. The original ECLIPSE drill was used at Eclipse Dome and drilled what we believe is the deepest core recovered in Canada. Total depth was just over 345m with virtually complete core recovery. Drilling was stopped because we ran out of cable. Borehole closure in the rather warm ice was also becoming a concern. The top 60m of this long core was drilled using an ultra-clean system.
CORE LATHE (2002)
In conjunction with the University of Maine, Icefield has developed a prototype ice core lathe for trace metal analysis. This lathe is used to remove the contaminated outer surface of an ice core in preparation for analysis. If used in conjunction with our ultra-clean drill, this product promises to greatly improve the sensitivity of such analyses while making more core available.
ULTRA-CLEAN DRILL (2000)
The Ultra-clean drill upgrade for the ECLIPSE drill was successfully tested on Devon Island, Nunavut. This drill uses pure titanium barrels and head and carbide cutters. The core is drilled into a pre-cleaned polyethylene sleeve which then serves as its transport tube. Core handling is minimized and core quality improved. Initial sample analysis demonstrates a ten-fold decrease in surface contamination.
SISTER COMPANY (2000)
Formed in February of 2000, Icefield Tools Corporation (www.icefieldtools.com) takes over the borehole surveying product line with an emphasis on mining and oil & gas applications. This equipment is still available for glaciologists, though now with greater ruggedness and improved software.
ITASE DRILL
The ECLIPSE drill built for the US ITASE (International Trans-Antarctic Scientific Expedition) has completed three successful drilling seasons (1999/2000 through 2001/2002).
PRODUCT LAUNCH (1998)
We will be launching our new line of digital borehole survey tools at the PDAC 1998 Annual Convention and Trade Show in Toronto. For more information on digital borehole survey tools, click here.
ECLIPSE DRILL IN ANTARCTICA (1997)
The latest ice coring drill built at Icefield Instruments Inc. is on its way to Law Dome, Antarctica. This is an 82mm drill with 500m of steel cable on the winch. The drill operates from a 240VAC, 50/60Hz power supply. Improvements to the design include:
aluminium castings to reduce weight and increase strength on

the winch drum
the level winder
the winch frame

the winch transmission has been split from the winch motor (making the drill even more compact and portable) and the transmission has been moved inside the winch drum. Note that the drum is designed so that the transmission can be removed by loosening only six bolts - the cable need not be removed from the drum.
cable tension when tipping the tower is now taken up using a spring-loaded sheave rather than a separate arm on the tower.
For more information on ice coring drills, click here.
HANDHELD ECM (1997)
The handheld ECM unit is now shipping. The basic unit can store approximately 15m of ECM data (at a scan rate of 2cm/s) before saving data to a computer. Greater storage is available upon request. Click here for more details.
ECLIPSE DRILL IN TIBET (1997)
In late May of 1997, an ECLIPSE drill was used by the University of New Hampshire on the Far East Rongbuk Glacier, Mount Everest, at an elevation of 6500m. Due to a shortage of time, only 42m of core was retrieved. The drill, however, worked fine.